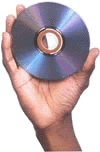 We have worked on CD-ROM development since 1996, specialising in discs for conferences and the education sector.
We work closely with our clients to ensure that the finished product meets all of their requirements. Our discs can be used in PCs and Macintosh computers, and are designed to automatically launch when inserted in the CD drive.

Many of our clients commission us to develop a disc and then ask us to duplicate the disc on a just in time basis - production runs of between 10 and 100 discs at a time are common - reducing the chance of the disc contents being out of date before all of the discs are distributed or sold. For small runs we now use an all-in-one disc printing system that prints full-color, 4800 dpi images directly onto the surface of CD-ROMs.
Duplication costs vary based on numbers. Small runs of up to 50 discs currently cost $5.50 including GST. Large duplication runs can bring the cost per disc down to less than $1.00. Phone us on 03 9012 3381 or email This email address is being protected from spambots. You need JavaScript enabled to view it. to discuss your development and duplication needs.