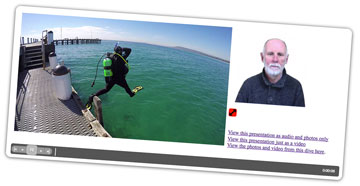 Many of my clients are now making recordings of teacher professional learning presentations and student revision lectures available online. Some are running webinars, using Redback Conferencing or Adobe Connect, while others are recording a session and placing it online either as audio, video, or as a SMIL presentation. There are benefits and disadvantages to all approaches, and I generally recommend keeping one's options open as much as possible.
If I am running a webinar I will also record the audio on my iPhone, using Voice Recorder HD, and if it is a long session I might even point a video camera at the PowerPoint display so that if I have to turn it into a SMIL presentation later I have an easy way of determining when the slide transitions took place. If one of my Macs is being used to display to PowerPoint Slides I will run ScreenFlow to capture the presentation, so that I can see the slide timings, and export the elements I need when creating the online version of the presentation..
Most of my clients will know that I am an advocate of using SMIL for making recordings of professional learning sessions available online. If the original presentation was done using PowerPoint slides then SMIL's ability to skip backwards and forwards through the slides, to the point that each transition took place, has much to commend it. See my earlier SMIL article for more detail.
But what if you want to include video of the presenter? Well, SMIL can do that too, and can even let the viewer swap the slides and the video over, so that the video of the presenter occupies the main area of the presentation.
The learning curve is fairly steep however, and as bandwidth to most schools and homes has increased it has become less important to keep filesizes down to a minimum. SMIL still has advantages in terms of accessibility, but for many organisations video will be a simpler way to make their presentations available.
One of the simplest ways to record a presentation as video is to use a screen capture application on your computer. I use ScreenFlow on my Macs. It can record everything that happends on the screen, audio from the computer and from a microphone, and also record video from a camera. When you edit the video you can decide which parts of the screen are to be included in the final product, and where, and how large, the "picture in picture" video of the presenter should be positioned. Different elements can be set to only appear at certain times in the video, and additional material can be added whilst editing. Basic recording and editing is simple, but there is enough scope to allow you to create extremely professional presentations. Camtasia is another screen capture application that you might like to consider. It is available for both Macs and PCs.
If you want to use video I recommend saving the files to YouTube (or Vimeo, but the following information is based on what I do with YouTube), at the highest possible quality. When a YouTube video is played the appropriate quality video is selected by the server, based on the bandwidth the that user has available, so if a fast connection is available the viewer will see a better quality video. If your presentation has lots of fine detail in the slides then SMIL will work better, but if there isn't small text, or intricate diagrams, that must be easily readable then video will generally work well.
When you initially sign up for a YouTube account you can only upload videos shorter than 15 minutes, but you can go to you YouTube uploads page and click on the "Increase your limit" link. After a simple authentication process you will then be able to upload longer videos. You might want to set up a YouTube Channel, and make these videos publicly visible, or you might prefer to upload them as "unlisted" videos. Unlisted videos won't be discovered in a search on YouTube, and won't appear as a suggested video.
If you want the presentation only available to your members, or to participants at a specific PL session, use a plugin to embed an unlisted video in a page on your website, and arrange a way to password-protect access to this page. I have set up several Joomla websites to provide restricted access to presentations, either using SMIL or YouTube videos. When Joomla is set up with Community Buiilder and CB Subscriptions you can have a system that provides time-limited access to individual presentations - with access limits from 24 hours through to the rest of the calendar year. If you use PayPal, or another payment gateway like eWay, you can even let people sign up and pay, and automatically gain immediate access to the resources for a professional learning presentation or student revision lecture. Similar functionality would be possible with other content management systems as well.
This type of system works well for teachers and students who are unable to attend a session because of their distance from the face-to-face presentation, or if the session was booked out. It also allows a presentation to be made available throughout the year, allowing you to present to a much larger audience. Sessions that can't go ahead face-to-face could recorded in your office, and then made available online. You might even consider creating a "library" of presentations that are available over several years, extending the range of PL resources available to teachers new to a subject. Of course, you might need to vary your arrangement with presenters if you wanted to do this.
So what do these sorts of presentations look like?
As an example, I've put together the same 2 minute presentation in three ways.
The first is a SMIL presentation using audio, video, and photos. This option isn't completely responsive - it doesn't work well on iPhones, as the video is played separately, without showing the slides. I haven't tested this on Android phones. It does work on tablets. This version uses the most storage, as there are three versions of the video, to suit different devices. The three video files have a combined total of 26MB.
The second is a SMIL presentation using just audio and photos. This option is responsive, and displays properly on phones as well as other devices. The three audio files have a combined total of 5.2MB.
The final version is the exported ScreenFlow video, uploaded to YouTube as an unlisted video. This has the least impact on your server, as only the page is stored there. The video is embedded on the page using a plugin that calls the YouTube video, and YouTube serves the appropriate version for the user's device. Whilst this is convenient it is less secure, as it is easy for the user to jump out of the page and see the video on YouTube, which means that they can share that URL with others.
Which option is the best for you might depend a bit on how much storage you have available on your website. In this 2 minute example, the video of my talking head takes up almost 5 times more space than the audio of the presentation. The simplest option is to host a video on YouTube, but I generally find that the ability to rapidly jump from slide to slide is a compelling argument for using SMIL, although most presenters prefer not to include video of themselves.
If you want to find out more about SMIL, read this SMIL article and email me at This email address is being protected from spambots. You need JavaScript enabled to view it. if you want more information about how I set up online PL presentations.