Internet Technology Services provides website development services, CD-ROM creation, and technical support to a select number of clients, mainly in fields related to education.
We are located in Thornbury, Victoria, and most of our clients are situated in Melbourne's inner metropolitan suburbs.
We provide offer development and maintenance services, CD-ROM development and duplication, and can provide technical support for PC and Apple computers. We are able to provide on-site training for your staff in the maintenance of websites, and we specialise in the development of dynamic websites using an Open Source Content Management System called Joomla!
Internet Technology Services is owned and operated by Peter Batchelor. Find out more about Peter here.
Using SMIL in online Professional Learning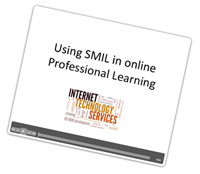 In June 2013 I gave a talk on how SMIL is being used by a number of my clients, mainly teaching associations in Victoria. For these clients I've been turning PowerPoint slides into SMIL presentations that includes the recorded audio from the session, and the PowerPoint slides as images. My talk also touched on how SMIL presentations like this can be used in Joomla! 2.5, to set up a system that allows you to grant access to particular subscribers, for a particular amount of time.
Read more...